Klaus Thymann is a Danish explorer, scientist, fellow at the Royal Geographical Society, multi award-winning photographer, filmmaker and creative director. He has developed an original viewpoint utilising a cross-disciplinary skillset that combines journalism, image making, mapping, documentary and exploration with a focus on contemporary issues and the climate emergency. Thymann has been featured by New Scientist, National Geographic, BBC, Wired and more.
Working as a documentary filmmaker and journalist his work has reached audiences of tens-of-millions through features and commissions in media outlets including the BBC, The New York Times, CNN, The Guardian, and Vice, among others. Through creative directing, Thymann has delivered original content and installations across multiple platforms for institutions and NGOs, as well as brands like Nike, Sony, Björn Borg, Arc'teryx and Red Bull.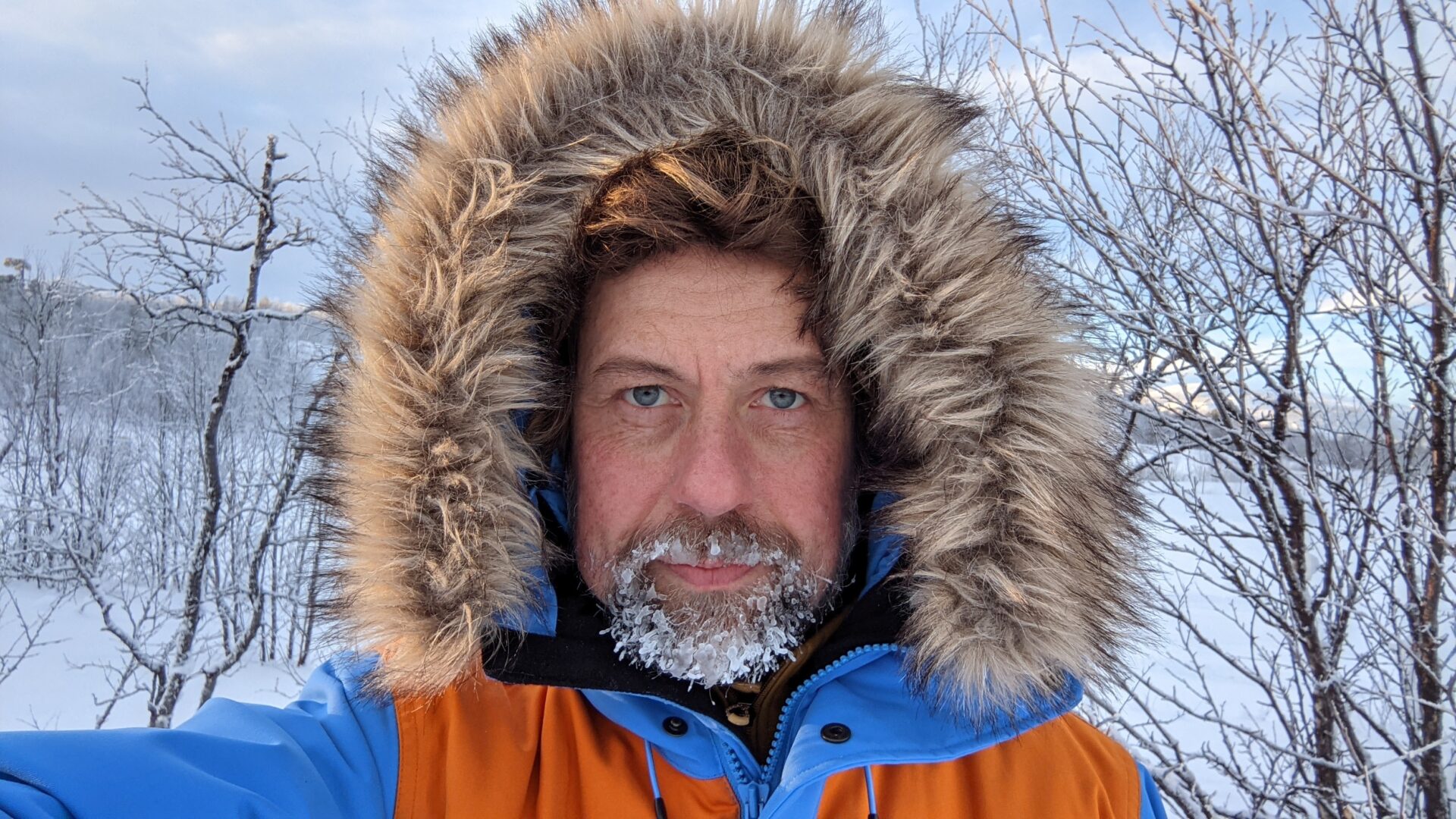 He is an experienced mountaineer, frequently summiting oxygen deprived peeks, as well as a technical diver capable of navigating in deep waters, below ice, and cave diving. Over the past two decades he has worked in conflict zones and led more than 50 expeditions to extreme environments across six continents and into all the planet's four oceans.
Conducting field work supported by his environmental science degree, Thymann has made discoveries including finding corals in Danish waters, pre-historic bones deep inside a submerged Mexican cave system, and an unexplored manatee habitat in the Yucatan. He has uncovered equatorial glaciers by trekking a new route into Congo DRC and reported unnamed glaciers in Nepal.
Through leading teams and working collaboratively, Thymann has engaged in partnerships with institutions including NASA, the United Nations, World Glacier Monitoring Service and Danish Technical University – conceiving new methodologies and creating inventions along the way.
Thymann's passion for the environment and arts led him to undertake pro bono work and serve on the board of organizations including The Design and Artists Copyright Society, UNICEF, Extinction Rebellion and Red Cross. His charitable work has been supported by the Queen of Denmark, Arts Council England, the Danish Arts Foundation and the Swiss Environmental Ministry.
In 2008 he combined his diverse talents to establish the charity Project Pressure – Visualizing the Climate Crisis. The charity uses art as a positive touch-point to inspire action and behavioral change. Through Project Pressure he collaborates with world-renowned artists to create and exhibit provocative work that inspires climate action.
Project Pressure's influential project Voices for the Future at the United Nations 2019 Climate Action Summit installed large-scale projections covering the exterior of the landmark building with images of an iceberg melting paired with words and voices from six young advocates, including Greta Thunberg. The words were collected and arranged by Thymann through interviews and correspondence.
At age fourteen Thymann got his start by photographing tourists in Copenhagen for the Canal Tour and began working for publications as a writer and photographer during his teenage years. In 1996 he was the youngest ever winner of the Scandinavian Kodak Gold Award and in 2013 he won the Sony World Photography Award. He is a Hasselblad Ambassador and his artwork is in permanent collections incl. MoMA (SF) and has been exhibited at Design Museum Denmark, Horniman Museum London, Institute of Contemporary Art London, Natural History Museum Vienna, Museum of Climate Change Hong Kong, and Museum of Modern Art Stockholm.
Thymann has guest lectured at Oxford University, The Photographers' Gallery, Central St. Martin's College of Art and Design, Hong Kong University, Rome University, Cancun University, University of the Arts London, Natural History Museum Vienna.
// Collaborations (selected)
Publications and Broadcast
BBC, Bloomberg Business Week, British Journal of Photography, CNN, Danish Broadcast, Dazed & Confused, Disegno, Financial Times, GQ, i-D, Lensculture, L'Officiel Hommes, National Geographic, New York Times, NPR, Nowness, Monocle, Outside, POP, Rolling Stones, Royal Photographic Society Journal, The Face, The Guardian, The Observer, Vice, V Magazine, V Magazine, Wired
SCIENCE AND ACADEMIA
Central St. Martins, Danish Technical University Aqua, Global Terrestrial Network for Glaciers, Massachusetts Institute of Technology, NASA, Oxford University, London School of Economics, University of the Arts London, University of Brighton, University of Cancun, University of Copenhagen, University of Florida, University of Roma, World Glacier Monitoring Service
GRANTS, NOMINATIONS & AWARDS
Arts Council England, Cannes Lion Advertising, Clio Award, Danish Arts Foundation, Kodak Gold Award, Queen of Denmark Grant, Royal Photographic Society, Sony World Photography Award, Velux Foundation
INSTITUTIONS, CHARITIES AND NGOS
Alzheimer's Society, Amigos de Sian Ka'an, Design and Artists Copyright Society, Extinction Rebellion, Fridays for Future, Glacier Trust, Global Ocean Trust, Homeless World Cup, Lighthouse Foundation, London Cycling Campaign, Red Cross, Teenage Cancer Trust, UNICEF, United Nations, University of Florida, Wildlife Trust, Women for Women, World Health Organization
BRANDS
Adidas, Arc'teryx, Asics, Audi, Bjorn Borg, BMW, Carlsberg, Casio, Coca-Cola, Delma, Diesel, Dr Martens, Fjällraven, Hasselblad, Gatorade, Google, Johnnie Walker, Jordan, Lenovo, Levi's, Nike, Parajumpers, Playstation, Rab, Ralph Lauren, Reebok, Sony, Speedo, Target, T-Mobile, Umbro, Westin Resorts
EXHIBITIONS AND COLLECTIONS
Design Museum Denmark, Horniman Museum London, Institute of Contemporary Art London, Natural History Museum Vienna, Museum of Climate Change Hong Kong, Museum of Modern Art Stockholm, MoMA San Francisco
Born in Copenhagen in 1974.
QUALIFICATIONS
2015 BSc (Hons) in Environmental Studies, Open University, UK
2014 Wilderness Medical Training, Courses for Explorers
2013 4×4 off-road driving course
2012 Full Member (experienced mountaineer) Alpine Club
1993 Graduate Marie Kruse Gymnasium (college), Denmark
Advanced multistage Cave Diver, Normoxic Trimix,
Advanced Nitrox, Self Sufficient Diver and Side Mount with IANTD,
Dry suit with PADI, Rebreather with IANTD
CAREER PROFILE
2022-current Fellow at The Royal Geographical Society, UK
2021-current Consultant with Technical University of Denmark, National Institute of Aquatic Resources
2020-current Advisory board of Danish School of Media and Journalism, Denmark
2020-current Hasselblad Ambassador
2011-2019 Board Member of Design and Artists Copyright Society (DACS)
2008-current Founder and Director Project Pressure
DISTINCTIONS, AWARDS AND GRANTS
2023 Nomination for Earth Photo by RGS, Beluga whale research film
2022 Two-year Velux Foundation research grant for seafloor habitat mapping in Jammerbay, Denmark
2019 Shortlisted for Landskrona Fotofestival Prize
2019 Shortlisted for Welcome Photography Prize
2018 Honourable mention, Danish Press Photo of the Year
2017 Nominated for Prix Pictet 2017
2016 Selected as original artist for London Creative Network
2016 Winner Photo District News, The Great Outdoors Underwater category
2016 Shortlisted Royal Photographic Society RPS International Print Competition 159
2016 Shortlisted for Red Bull Illume
2015 Shortlisted for Arts Council England supported 'neo:artprize 2015'
2014 Winner Photo District News, 2014 Photo Annual
2013 Winner Sony World Photography Award: Fashion & Beauty Photographer of the Year
2013 Shortlisted for 'Inntravel Award' at Berwick Film & Media Arts Festival
2013 Production support Hasselblad
2012 Winning Entry Editorial Category Creative Review Photo Annual
2012 Getty Images Creative Grants for Project Pressure
2011 Grant awarded by the Queen of Denmark for Project Pressure
2011 Arts Council England, grant for Project Pressure
2011 Danish Arts Council, production grant for Christiania
2011 Winner Timed to Perfection competition hosted by Wired
2010 Danish Arts Council, production grant
2010 Gold Award finalist, Campaign Photo Award for Project Pressure
2010 Winner D&AD, best use of photography (Contributing to EXIT Magazine AW09)
2008 Merit at Fujifilm Distinctions Awards 2008
2008 Winner of production grant for a short film sponsored by Sony Playstation
2008 In book for Orgreen campaign at the Association of Photographers Awards
2008 Winner Best Out-Door Danish Advertising Awards for Coca Cola
2006 Selected for 'New Photographers' at International Advertising Festival in Cannes
2003 Winner of Best Photographer at the Danish Advertising Awards
2002 Winner of Clio Silver Award for Nikewomen.com
2002 Shortlisted at Cannes Lion Advertising Festival
2000 Winner of Best Music Video at the Danish Grammy Awards
1999 Nominated for Best Music Video at the Danish Grammy Awards
1998 Winner of Music Photo of the Year, a prize of Danish Musicians Society
1997 Winner Bronze Cannes Lion at International Advertising Festival in Cannes
1996 Youngest ever winner of the Scandinavian Kodak Gold Award
EXPLORATIONS AND EXPEDITIONS
2023 Underwater cave research, Mexico
2023 Environmental impacts on Sami Community in Arctic Sweden
2022 Investigation of pollution of Cenote Renzo, Mexico
2022 Environmental impacts on Sami Community in Arctic Sweden
2022 Summit of Cotopaxi 5,897 m and glacier research, Ecuador
2022 Beluga whale research in the Arctic, Svalbard Norway
2022 Aerial photogrammetry of Marmolada glacier, Italy
2022 Creating comparative images using own 2012 images of glacier Rwenzori, Uganda & Congo DRC
2021 Cave exploration as part of Vice Documentary, Mexico
2021 Revisiting glaciers for 10 year comparative imaging, Iceland
2021 Infiltration cave dive for environmental reporting, Mexico
2021 Exploring and research on resilient corals native to the Red Sea, Jordan
2021 Manatee habitat discovery, Mexico
2022 Survey diving and ocean floor mapping, incl. use of multibeam sonar, Jammerbay Denmark
2021 Survey diving and drop-camera deployment, Jammerbay Denmark
2021 Diving the continental divide Silfra, Iceland
2020 Discovery of abundance of corals in Danish waters
2020 Drone photogrammetry of Stanley Plateau glacier Rwenzori Mountains, Uganda
2020 Discovery, documentation and photogrammetry of oldest human bones in the Americas
2019 Diving and sargassum research, Florida, USA
2019 Cave Exploration, Mexico
2019 Field work deep in the Amazon Rainforest, Brazil
2018 Exploring the legacy of US nuclear testing, wreck diving at 65 m, Bikini Atoll, Marshall Islands
2018 Summit of Chimborazo 6,263 m, Ecuador
2018 Creating thermal imaging time-lapse of Rhone glacier, Switzerland
2017 Field work collaboration with glaciologists, Greenland
2017 Cave Exploration, Mexico
2017 Research on Helags glacier, Sweden
2016 Freediving and photography of humpback whales in Tonga
2016 Photographic research Popocatepetl glacier, Mexico
2016 Cave exploration and documentation of system Mul Tul, Mexico
2016 Aquifer and cave surveys, creating of FLOWS film about aquifer on the Yucatán Peninsula, Mexico
2015 Fox, Tasman, Hochstetter and Mount Cook glaciers, New Zealand
2015 Photography and research on Nyiragongo volcano, Congo DRC
2015 Glaciers Narsarsuaq, Greenland
2015 Photography and research of Cenote Angelita, Mexico
2014 Summitting and research on Damavand, Sabalan mountain glaciers, Iran
2013 Aerial survey using historical photos of a number of glaciers on the south island, New Zealand
2013 First documentation of tunnel under the Pallin glacier, Kebnekeise Sweden
2013 World's ever scuba dive and first documentation of the world's clearest lake, New Zealand
2013 Research on Cocuy Pan de Azúcar, Uwa Blanco, Uwa Negro, Cisne, St Isabel glaciers, Colombia
2013 Photographic research on Charquini, Huayna Potosi, Illimani, Gipelfgrat Acotnogo, Bolivia
2012 Glacier expedition in Rwenzori Mountains, creating first trekking route into Congo DRC
2012 Documenting un-named glaciers in Nepal
2012 Photography and research in cenote The Pit, Mexico
2012 Helicopter glacier survey using 1939 comparative photos Helheim, Isertoq, Mittivakkat, Greenland
2011 Joining Norwegian Water Resources and Energy Directorate field work, Norway
2011 Photographic research on glaciers in Iceland
2011 Glacier survey Alaska, USA
2010 Photographic research Jakobshavn, Greenland
2009 Field work on glaciers in Switzerland
2009 Trekking and documenting Maladeta glacier, Spain
2009 Photographic glacier research Cotopaxi and Cayambe, Ecuador
2008 Trekking and helicopter glacier survey Glacier National Park Montana, USA
2008 Photographic glacier research Chile
2008 Photographic glacier research Argentina
2008 Photographic glacier research Iceland
SOLO EXHIBITIONS & ART INTERVENTIONS
2019 VOICES FOR THE FUTURE, projection onto the UN building in New York
2019 Shroud at Gallery Luisotti, Santa Monica
2015 Timezone at The Supermarket, New York
2010 'Klaus Thymann for i-D' at BBlessing, New York
2008 HYBRIDS, Exposure, London
2007 HYBRIDS book launch and solo exhibition at DreamBag Jaguar shoes, London
2007 HYBRIDS book launch and solo exhibition at V1 Gallery, Copenhagen
2007 HYBRIDS book launch and solo exhibition at Wild Project, New York
2006 'I can't see what you are saying' at B&B Premium in conjunction with ArtMBassy, Berlin
2006 no.one Gallery, London
2005 Fast Forwad on Pause r-s-v-p Gallery, Munich
2004 'Because my phone is not a camera' at Viaux Gallery, Hamburg
GROUP EXHIBITIONS
2023 'Climate. Emergency. Hope' at The Turnpike Gallery, Leigh England
2023 MELTDOWN at KuhlhausBerlin
2022 MELTDOWN at Whirinaki Whare Taonga & Nelson Provincial Museum, New Zealand
2021 MELTDOWN at galerija Jakopič, Ljubiana
2021 'Forever Changes' Street Level Photoworks, Glasgow
2021 Mountains, Stimultana, Strasbourg
2020 Project Pressure at Landskrona Fotofestival
2020 'Living the City', Tempelhof, Berlin
2020 'Kiruna Forever', ArkDes, Stockholm
2020 Night Fever. Designing Club Culture 1960 – Today, Design Museum Denmark
2019 MELTDOWN at The Horniman Museum and Gardens, London
2019 WARNING SIGNS at Alt +1000 with Musée des beaux-arts, Le Locle
2019 MELTDOWN at Natural History Museum, Vienna
2018 'When Records Melt' at Museum of Unseen, Amsterdam
2018 'Vanishing Glaciers' at Museum of Climate Change, Hong Kong
2016 Uncertain States at The Mile End Art Pavilion, London
2015 NEO Artprize 2015 Finalist, Bolton
2015 Nordic House Scottish Storytelling Centre, Edinburgh
2014 125 Live at Londonnewcastle, London
2013 House of Arts, part of National Cultural Centre, Bratislava
2013 Sony World Photography Awards Exhibition at Somerset House, London
2012 Featured artist in Contemporary Art Society Leap! Gala
2011 Menonsyne selected for The-Event at Grand Union, Birmingham
2011 Menonsyne public screening at Big Screen Project, New York
2011 CITIES: visionary places at Torrance Art Museum, Los Angeles
2011 After the crash at Orto Botanico UNESCO heritage site (with catalogue), Rome
2010 Copenhagen Photofestival, large prints installed in public spaces, Copenhagen
2010 'Haiti FOTORELIEF' at Milk Gallery, New York
2009 Mnenosyne one channel installation Museum Centro Arti Visive Pescheria, Pesaro, Italy
2009 Seven Star Gallery, Berlin
2007 Group show at Paul Smith's Space Gallery, Tokyo
2004 Onedotzero at Institute of Contemporary Art, London
LECTURES AND PANELS (SELECTED)
2021 'Response to Climate Crisis and the Role of Media', Korea Press Foundation
2020 'Symposium on Visualising Climate Change' University of the Arts London
2019 'The journey to MELTDOWN' Natural History Museum, Vienna
2019 'How to make your passions pay' University of Brighton
2018 'City to Nature ' Workshops for Fjällräven in Hong Kong, Amsterdam and Oslo
2018 'Using art to communicate Climate Change' at Chinese University Hong Kong
2017 Talk sponsored by Sony at WEX Travel and Adventure Photography show
2016 'Explaining environmental issues through craft' at Mother London, part of DA&D Festival London
2015 'Documenting Extreme Environments', private VIP talk and Q&A at Casio, New York
2015 Talk at Copenhagen International Documentary Film Festival
2014 Lecture at 125Live Story Telling in Image Making, London
2014 V-1 Gallery Artists Talk
2014 Lecture at COST Mapping, the convergence of art and science, Ancona
2013 Panellist at World Creators Summit, Washington
2013 Keynote speaker at 'Healthy options for a warming planet", Cannes Lion
2013 Panellist PhotoTALK, World Photo, London
2013 Speaker at 'Rise Above', McCann Health hosted event, Tokyo
2013 'Changing Behaviour' Lecture at Oxford University
2013 Speaker at 'Furore III', talking about storytelling, Munich
2011 Lecture at Sapenzia, University of Rome
2011 Panellist at World Copyright Summit, Brussels
2011 Keynote speaker 'Extreme Island Exploration' hosted by i-D Magazine and Diesel
2011 Panellist 'Artists' Futures' chaired by Paul Hobson, Director Contemporary Art Society
2010 Artist talk hosted by British Journal of Photography and The Photographers' Gallery
2008 Visiting Lecture at Central St. Martins
2007 Visiting Lecture at Central St. Martins
1997 Keynote speaker 'Danish Advertising Now' hosted by Creative Circle
1994-1997 Annual workshop at Kolding School of Design
PRO BONO AND CHARITABLE WORK
2021 Leading expedition for habitat mapping of manatee lagoon funded by Lighthouse Foundation
2020 Expedition exploring unchartered danish waters finding corals w. Lighthouse Foundation
2019 Directing Flows – It's all Connected (13 min) with the Lighthouse Foundation and multiple NGOs
2017 Directing Flows (52 m.) working with the Lighthouse Foundation and multiple NGOs 
2016 Donated edition print to the Alzheimers Society
2015 Writing, directing film for The Wildlife Trust, England
2013 Writing, directing and photographing a campaign for Ruas e Pracas, with Brazil street kids
2013 Photo lecture in aid of Women for Women, helping women survivors of war
2013 Directing short film for London Cycling Campaign
2011 Donating edition print for charity auction benefitting Japan Rising
2010 Donating edition print for charity auction benefiting ROSE Charities
2009 Creating images for use by London Cycling Campaign
2009 Donating edition print for charity auction benefiting Teenage Cancer Trust
2006 Directing a short documentary film for The Homeless World Cup
2005 Donating edition print for charity auction benefiting Tsunami Fotorelief
2004 Special assignment for Dazed & Confused publishing to benefit Cancer Research UK     
2002 In Kenya directing a TVC for The World Health Organization and UNICEF
1999 Print information campaign for Red Cross
Hardback
'Surveying the Anthropocene' by Patricia MacDonald (Edinburgh University Press, 2022)
'Kiruna Forever' by Daniel Golling and Carlos Mínguez Carrasco (Arkitektur Förlags, 2020)
'Glaciers The Politics of Ice 'by Jorge Daniel Taillant (Oxford University Press, 2015)
'Victor' (Hasselblad, 2014)
'Sony World Photography Awards 2013' (WPO, 2013)
'Inventory of Norwegian Glaciers', (NVE, 2012)
'The European Project Immersion in Scientific Words Through Arts' (ISWA, 2011)
'50 top contemporary fashion photographers' (DAAB, 2009)
'Association of Photographers Awards' book (AoP, 2008)
'HYBRIDS by Klaus Thymann'  introductory drawings by David Shrigley (SQUASH'EM, 2007)
'New Face of Portraiture'  (IdN, 2007)
'History of Danish Photography' (Kunstbogklubben, 2004)
'Modeleksikon' (Politiken 2002)